Dr Jennifer Moodley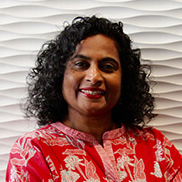 Jennifer is a Public Health Physician with experience in health systems research, epidemiology, and public policy development. She has worked as a clinician in rural and urban health care settings and has first-hand experience of the challenges in providing health care in resource-constrained environments. Jennifer has been involved in the development and implementation of diverse public health programs and policies; conducting health systems research to support national and provincial public health objectives and trained under- and post-graduates to meet similar responsibilities. As
Director of Cancer Research in the Faculty of Health Sciences, the University of Cape Town she supports the development of integrated multi-disciplinary cancer research programs and
the translation of research into clinical and public health benefits. Cervical cancer is the leading cause of cancer death among women in Sub-Saharan Africa and much of Jennifer's work has focused on the prevention and control of cervical cancer. This includes research on programmatic challenges in secondary prevention of cervical cancer; formative and cost-effectiveness research on the implementation of an HPV vaccination program; epidemiological research on the association between human immunodeficiency virus, human papillomavirus, cervical cancer precursors, and cervical cancer in South Africa. Her research also explores the complex journey from symptom recognition to cancer care and seeks to apply innovative approaches to improve timely diagnosis of cancer.